Generally speaking, most towing companies regard any tow of over 40 miles as a long distance tow. There may be long distance towing jobs where vehicles are towed hundreds of miles.
Long distance towing jobs have unique characteristics which differentiate them from local ones. It is up to the towing company to know what to put the emphasis on in order to perform this type of service well.
As veteran suppliers of comprehensive towing services to the community of San Antonio we at Towing Alamo pride ourselves also in offering top class long distance towing services.
No matter which type of vehicle you need towed long distance and under what circumstances, you can always count on us to transport your vehicle safely and efficiently to the designated destination, no matter how far away it may be.
Relocations, Special Vehicles and More
While local towing mostly involves towing an incapacitated vehicle to the mechanics, in long distance towing the vehicle towed may very well be in perfect working order.
A typical scenario in which long distance towing is called for is on occasion of relocation. When a family (or any individual for that matter) relocates it may become necessary to transport one or more of their vehicles to their new home.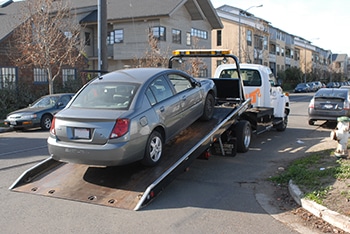 Another case is when special vehicles need to be transported, vehicles which may be working perfectly but are just not suited to be driven the distance on the highways. Good examples are professional all terrain vehicles (which may be making their way to a meet or competition) or vintage vehicles on their way to an exhibition.
Immediate Response, 24/7 Availability
With Towing Alamo you need not wonder if we are available or how long it will take us to be with you. We are a nonstop operation, you can count on us to offer you the type of towing service you need at absolutely any time, long distance towing included.
If you are in San Antonio and are in need of any towing service, don't hesitate, just give our dispatch a call and one of our tow trucks will be with you within 30 min.